H-ID / Health ID
H-ID is a project that utilizes CI (collective intelligence) to challenge cancer and wellbeing in the near future – 2030. The project is based on foundations established with Zuzanna Konieczna and Holly Thomson. As a team, we developed a plausible projection of the futuristic world. We believe that health is going to become a primary value in the world,
to such an extent that it could become a quasi-currency. The emergence of HRF – health risk factor (that could affect where you work or whom you date) is a serious proposition (elaborated further below in the collaborative part) that H-ID is built upon.
H-ID is a health monitoring system. It provides the user 24/7 with their medical data.
It allows the user to track and react to changes in their health. Furthermore, the system connects the users with each other and medical institutions, such as hospitals. As a result, treatment of cancer, and other diseases, is more effective, and ideally dealt with at the earliest stages.
However, the uniqueness of the design is its 'data donation' feature. Every user, a living 'sample and probe', can donate their medical data to selected research institutions.
The system's purpose is not only to cure better but to prevent hazards as well. The donated data would allow the network of scientists, architects, politicians, and others,
to find causes of diseases and address them.
H-ID is about medical data's collection, analysis, presentation and application. It creates technological and cultural challenges. Privacy and effectiveness were addressed through the introduction of an armband. It was a medium powering the chip and connecting it with the rest of the system – a mobile device, and to the rest of the system. Additionally, the armband notifies the user about the major health-related information. Thanks to the solution the chip cannot run out of power, and the data collection is completely under the user's control. If the user wishes it, they can just take the armband off and no collection or transfer of the data is possible.
The most basic feature of H-ID is collecting medical data and sharing it with its owner. Due to it, the user can observe changes in their health over time. However, it also means that the user can be notified about urgent, potentially harmful observations.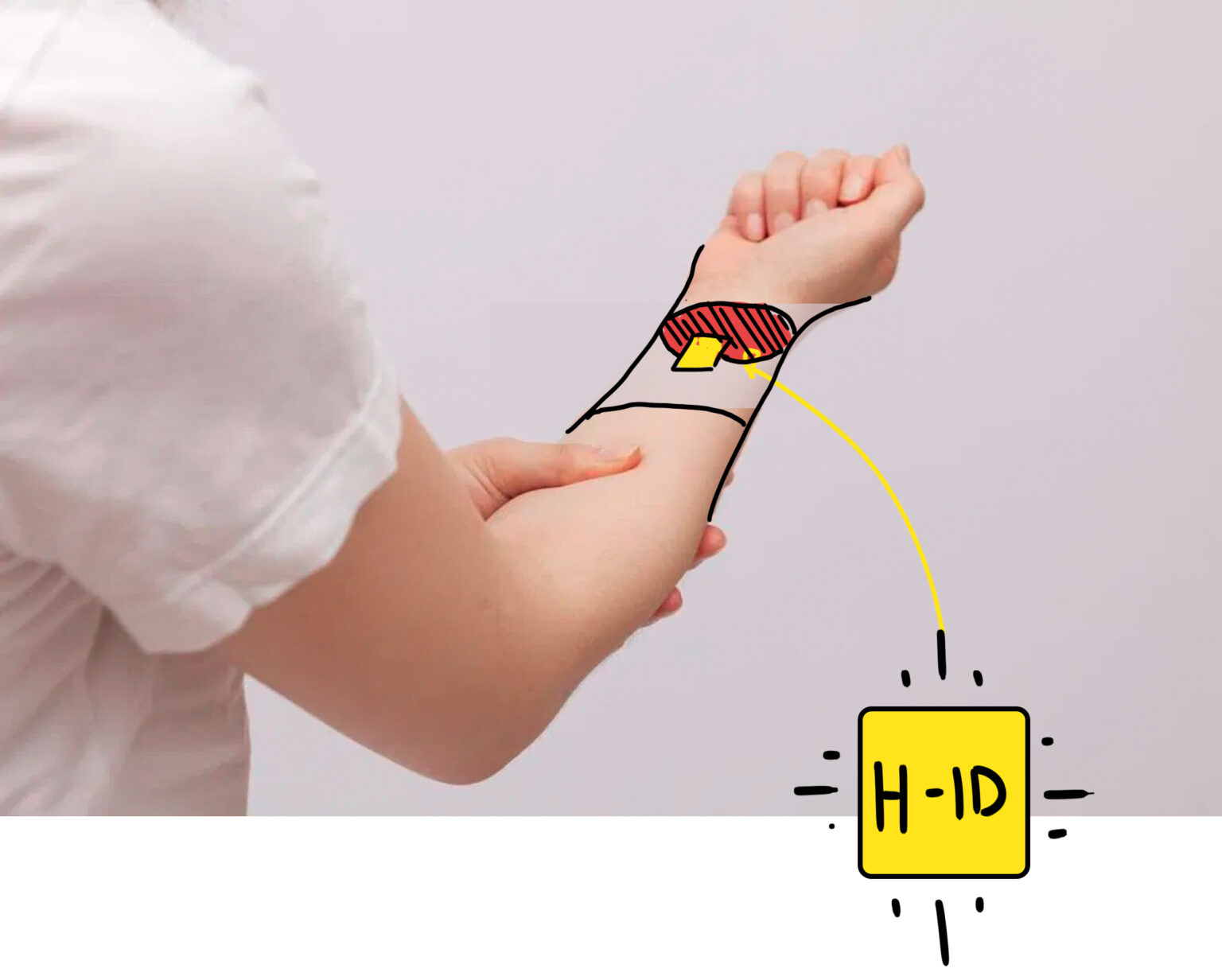 System Map
H-ID data collection/analysis system consists of 4 primary elements. On the use's end it is the chip, armband, and a mobile device. The fourth element is the collective intelligence – NHS and other institutions that interpret the data and send the medical information back to the user.